The Lineage of Adrianus Foret: Preface
The following is the English translation of a preface to the Forret family tree published in 1980. This family history previously tracked our ancestry to Amandus Forret. Through the research efforts of Rudi Van Eenooghe in Belgium, whose own lineage ties into the Forrets, it now begins with Adrianus Foret (baptized circa 1590), great-great-great grandfather of Amandus. The text below is taken directly from the translation, so the English may be awkward at times. The family tree is available in Adobe Acrobat (.pdf) and HTML format at the bottom of this page.
The Preface
The family tree is not complete, therefore it is missing some single elements. Also, it didn't go far enough into the past. The name "Forret" was traced back to 1653 in the city records of Wingene. Wingene seems to be where the records of the Forrets start.
We limit ourselves to the offspring of Amandus Forret, who in 1783 was born in Wingene. Missing names and dates could be filled in by other family members. Amandus had, according to the archives, two sisters (Sophie and Coleta) and one brother (Joseph). Of these last came several Forrets, some still living in West Flanders. Rogier Forret, born in 1838 in Wingene, was the only son of Amandus who had the name Forret who was the only male. There were no more Forrets in Belgium from this line, but about 20 in America, most in the area of Moline, on the Mississippi in the state of Illinois, where two sons of Rogier (Alfons and Henri), in the beginning of the century.
Where does the name Forret come from?
The family name comes from five sources(?). One of these sources is the nickname of an animal. Under this we have: lion = De Leeuw; fox = Devos; wolf = Dewulf; rabbit = D'Haese. Speaking of rabbits, they were hunted a lot and thereby used a ferret to scare off the rabbits from their holes.
It is possible that in the year 1500, a lot of names had to be registered. Someone known as a raiser of ferrets acquired the name of "Fret." Fret was then written as Forret. In the Netherlands wordbook, it evolved into Foret (French - Furet), now Feret, a weasel-like animal used to hunt rabbits.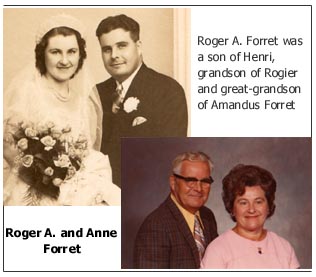 Let us not go into the signing of a name too far. For example: in the year 1500, an order was written that all the family fathers who did not have a family name should immediately choose one to their liking and register in the town where they lived. Example of a name Jaegher = hunter.
How many Forets and Forrets since 1653 in Wingene can be researched. The fact is that Amandus, on his birth certificate, has Foret. He married in 1816. All the registered births of his children were legally known as Forret. He himself adopted that spelling. In de Volks, people called him Fret.
A. Dauw, Oostkamp. 1980

---
View the Forret Family History Here in:

>> .PDF Format (Adobe Acrobat) << or >> HTML Format <<
---