Jacob Forret
Excerpt from: Wood, Prof. R.F. "Past and Present of Dallas County, Iowa."
Chicago: The S.J. Clarke Publishing Company, 1907, pp. 470-471.
Revised 11/24/00 by John Robert Smith, San Francisco, California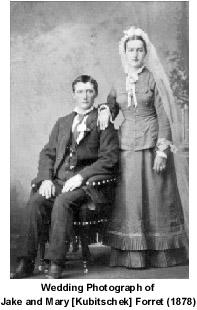 Jacob Forret, a native son of France, was born August 1, 1856. He is the son of Nicholas and Margaret (Falen) Forret, who emigrated from a village in the upper Moselle region of France near the Luxembourg border. In 1863, the Nicholas Forret family came to the United States, where they located in Dallas county, Iowa, on a farm. The mother is still living upon this place, while the father passed away in 1868. To their union were born eleven children, nine of whom are still living: Madalene, the wife of Nicholas Feller, who lives in Miner county, South Dakota; Nicholas, Jr., a resident of Boone township, Dallas county; Matt and John, who are living here; Anthony of Van Meter township; Edward, Champ, and Elizabeth, the wife of Thomas Chushing, all residents of Boone township; and Jacob, of this review.
Jacob Forret was only seven years of age when his parents came to America, so that he had scarcely time to acquire much of the French education. He has, however, received the advantages of the public schools of America, but like most farmers' sons, was obliged to divide his time between the schoolroom and the fields. His practical training came largely from the assistance which he gave his father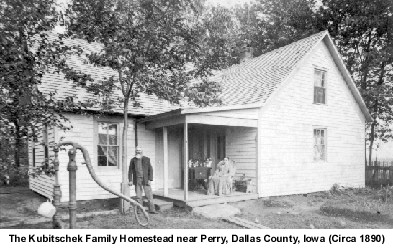 upon the old home farm. When he started out for himself, he rented a piece of land for ten years and worked it as conscientiously as though it had belonged to him. That he was well repaid for his labor on this ground is evidenced by the abundant returns which he received. He was thus enabled to buy three hundred and twenty acres of land in Sheridan county, Nebraska, and it was here that he lived for five years, improving the land and adding buildings necessary to carrying on his agricultural pursuits. He subsequently returned to Dallas County in 1899, where he bought the Kubitschek Family farm from Josef Kastner. With the sentiment which usually attaches to the place upon which one has spent his boyhood, Mr. Forret took an unusual interest in remodeling the buildings and in adopting the progressive methods and implements which should put his home place upon an equal footing with the newer farms of the vicinity. He has since then purchased three acres on section 16, where he has built a home and now lives a retired life. That his agricultural life has been a success is evidenced by the fact that he now owns two hundred and eighty acres of land in Dallas County and three hundred and twenty acres in Nebraska.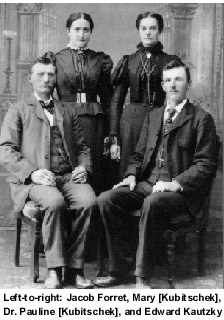 Mr. Forret was married in 1878 to Mary Kubitschek, who was born June 28, 1861. She is the daughter of Franz and Pauline (Biedermann) Kubitschek of Rokitnitz im Adlergebirge, Northeastern Bohemia, who came to America in 1870 and located on farmland near Perry in Dallas County. To their union, five children were born, four of whom are now living, namely: Mrs. Forret; Frank, who now lives at Eagle Grove, Wright County, Iowa; Adolph, a resident of the same place; and Dr. Pauline, the wife of Franz Exner-Christen, who is living in Rokitnitz. The parents of these children are still living in Rokitnitz, to which they returned in 1891, and where they anticipate spending the balance of their days. To Mr. and.Mrs. Jacob Forret, no children have been born, but they have adopted a son, whose name is Edward Kautzky. They recently presented him one hundred and sixty acres of their Nebraska land. (Edward Kautzky's parents, Josef and Anna [Biedermann] Kautzky had both died before 1876 leaving a family of six children without a father or mother. The children were adopted by several family relatives living in the United States. Edward Kautzky married Jennie Slaniná [Slaninger], the daughter of Joseph Edward and Anna [Kubitschek] Slaniná. Four children were born to them: Mary [Book], Edward, Paul, and Joseph. Members of the Kautzky Family have always been exceptional sportsmen and women. The Fort Dodge, Iowa branch of this family developed the "Lazy-Ike" fishing lure [among others] and owned an internationally renown sporting goods company in that community.)
Mr. Forret is a stalwart Democrat and has always given valuable assistance to his party in their campaigns. He and his wife are both members of the Catholic church at Perry, Iowa. Not many a farmer has been able to acquire a financial standing that enables him at fifty-one to retire and enjoy his remaining days in ease, but Mr. Forret has accomplished this. With the stalwart character inherited from his foreign ancestry he has worked hard and lived frugally and his name now stands as that of one of the honest, straightforward agriculturists of this county.
All photos courtesy of John Robert Smith, San Francisco, CA
Click on a thumbnail to view at full size



The Nicholas and Margaret [Falen] Forret Family Back row; left-to-right:

Jacob, Nicholas, Mathias, Anthony

Front row; left-to-right:

Edward, John, Elizabeth, Margaret [Falen], Magdalene [Feller], Jean-Pierre

Booneville, Dallas County, Iowa (About 1874)




The Nicholas and Margaret [Falen] Forret Family Back row, left-to-right:

Jacob, Mathias, John, Edward, Anthony

Front row, left-to-right:

Nicholas, Magdalene [Feller], Margaret [Falen], Elizabeth [Cushing], Jean-Pierre

Booneville, Dallas County, Iowa (About 1890)




The Nicholas and Magdalene [Forret] Feller Family – 50th Wedding Anniversary Back row, left-to-right:

Elizabeth [Feldhaus], Frank, Nicholas, Henry, Margaret [Kubitschek], Anna [Schueller].

Front row, left-to-right:

Andreas, Nicholas, Magdalene [Forret], Marie [Neises]

Howard, Miner County, South Dakota (1912)




The Nicholas and Margaret [Falen] Forret
Family & Descendants Left-to-Right, Back Row:

Annie [Feller] Schueller, Magdalene [Feller] Schmitz, Marie [Feller] Neises, Margaret [Feller] Kubitschek, Unknown, Lena [Feller] Feldhaus, Unknown, Unknown.

Left-to-Right, Second Row from Back Row:

William Neises, Joseph Schmitz, Nicholas Feller, Henry Feller, Unknown, Frank Feller, Andreas Feller.

Left-to-Right, Third Row from Back Row:

Jacob Forret, Matthias Forret, Anthony Forret, Nicholas Forret, Edward Forret, Thomas Cushing, Peter Schueller.

Left-to-Right, Fourth Row from Back Row (seated):

Marie Remacle, Mayme Dietrick, William Neises, Unknown, Loretta Morgan, Unknown.

Left-to-Right, Front Row (children):

Unknown, Unknown, Unknown, Unknown

Booneville, Dallas County, Iowa, 1921




Margaret [Falen] Forret - 100th Birthday Celebration

Booneville, Dallas County, Iowa, 1922